La Cordée in Paris
Coworking !
La Cordée in Paris opened it's doors in 2013. It's super easy to access : it's only an 8 minute walk from the Gare de Lyon train sation, and a 4 minute walk from the Ledru-Rollin metro station.
Inside, meet Jessica, our crazy and fun Irish Couteau Suisse (Swiss knife – our "space manager"), who will show you around. There's a quiet atrium, a large social area overlooking the street, three meeting rooms and of course… a nap room ! But most importantly, you'll also find a diversified and closely-knit community.
A lunch and coffee corner
… and some more chatty ones !
Meet Jessica! Franco-Irish, Jessica managed to be born in this World… on Saint Patrick's day! A performance, but also a blessing indeed for this proud celt. Besides drinking beer, Jessica loves bars for another reason: she's a semi-professionnal singer in an all-girls a capella singing band, the Soulmates!
Membership

Hourly rate
Monthly ceiling
€29 / Month

€3 / Hour
€299 / Month
We wanted to make coworking as flexible and accessible as possible : you can access any Cordée 24/7 with your badge, and only pay for the hours you spend there.  
ABOUT THIS CORDEE IN OUR MAGAZINE (in French)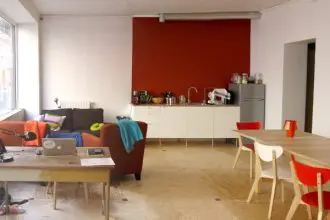 18 September 2013
Les phrases en "ion", c'est ma grande passion !   Bon, assez craqué, parlons de choses sérieuses. Vous n'aurez pas pu le louper si…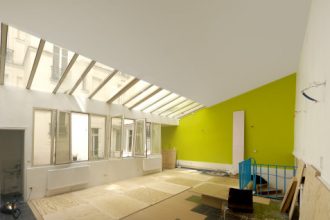 21 August 2013
La rentrée s'annonce, et avec elle l'ouverture d'un nouvel espace de coworking de la Cordée à Paris Gare de Lyon. Petit tour d'horizon des…