La Cordée Valmy

Coworking in Lyon!
Valmy opened in 2016. This Cordée is a former warehouse that we transformed in a cozy working space. 300 meters from the Saône and 8 mn from the Vaise train station, it has big volumes, small telephone spaces and a huge open mezzanine!
This Cordée is also handicapped-friendly.
Un espace de travail ouvert
Une grande salle de réunion
Une petite salle de réunion
Lionel used to be the Couteau Suisse (Swiss knife – understand space manager!) of Perrache before coming here to open this space. He brought with him: his passion for board games, his taste for climbing and… a few music instruments! Which are often used during breaks…
Contribution

Hourly rate
Monthly ceiling
€29 / Month

€2 / Hour
€199 / Month
We wanted to make coworking as flexible and accessible as possible: hourly rate pricing: everyone pays for the time spent in La Cordée, measured precisely by the access badge which allows them to access all Cordées 24/24 7/7!
ABOUT THIS CORDEE IN OUR BLOG (in french)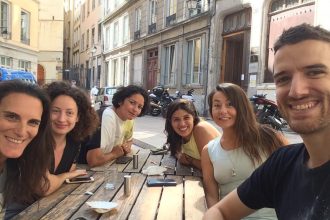 13 September 2019
À la rentrée de septembre 2019 commence, dans les Cordées de Lyon, une phase d'expérimentation : deux Couteaux suisses co-gérants par Cordée. C'est un…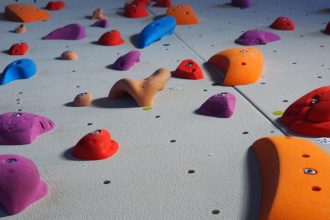 7 February 2019
Il y a deux ans ouvrait une nouvelle Cordée à Lyon, près de la gare de Vaise, la Cordée Valmy, animée par Lionel. Que…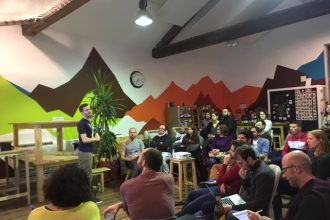 10 December 2018
L'envers du décor est un exercice auquel se prête joyeusement l'équipe de la Cordée régulièrement, et qui consiste à informer et demander les avis…